Team Digital is one of Western Australia's leading imaging suppliers, catering for the needs of professional and enthusiast imaging creatives, education and business. Our positioning statement best describes what Team Digital is about, giving our clients the "Technology to capture, create & communicate"
For over 35 years Team Digital has been providing leading brand products, advice and after-sales support from its showroom base situated just a few minutes from Perth's CBD. Our large showroom enables us to display an extensive range of specialist equipment and our Touch Centres allow customers a hands-on experience with the products on show. Furthermore, our customers enjoy the benefits of parking right outside the front door.

Products

we offer

: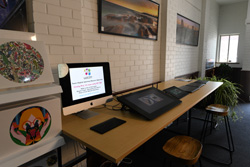 Wacom
As WA's only Wacom Pro Dealer, we have a full range of design tablets (including the Pro range) in our Wacom Touch Centre, where customers are free to test and play to their heart's content. Our staff are as passionate as you are about your imaging needs and would love to take you through the range.
Eizo

is the first and last word in professional monitors when colour accuracy really matters. We have a full range of Eizo monitors on display and customers are invited to peruse the software, check out menus and discuss their needs with our colour management specialists. We also support Xrite, Calibrite, and Datacolor calibration equipment, which you can also see in operation in our Eizo Touch Centre.
Epson
If you want to know anything about Epson printers or print media, then you should talk to one of our printing specialists. Team Digital sells and installs more Epson Pro printers into the WA market than any of its competitors and our printer display is second to none. The variety of print media that is now available is quite staggering but with our media sample display, we can help you to narrow down those choices. Call in and see Epson Pro printers in operation at our Epson Touch Centre, or select your media requirements from over 40 different samples on display.
Elinchrom and Profoto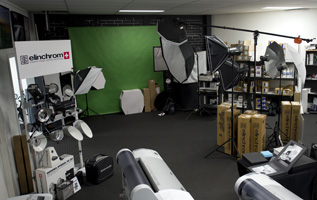 A visit to our Studio Lighting Touch Centre is the best way to experience the power of Elinchrom and Profoto. Whether your need is for a portable flash solution or a studio system suitable for small, medium or large jobs, our staff know studio lighting and can help you make the right choices. Along with lighting, our studio display also incorporates the best flash accessories from Manfrotto (formerly Lastolite), Xlite, Phottix, FlashWizard and numerous other manufacturers.
Cameras and Backs
Image capture is where it all starts and Team Digital is proud to be home to the best Medium Format camera system available today. As the only WA resellers of Phase One, our specialist staff live and breathe this unique technology and would love the opportunity to introduce you to the amazing world of medium format photography. Team Digital is also an authorised Australian reseller for Nikon, Canon, and Sigma, with highly competitive pricing on DSLR & Mirrorless bodies and lenses from each of those manufacturers.
I.T.
Team has always been regarded as an I.T. specialist within the imaging industry, a reputation we strive hard to maintain. We sell and support Apple products along with a range of products from leading brand manufacturers like Drobo, Stardom, and Synology. As a result of technology advances, image capture and image output have become I.T. based processes. It is therefore important that when making equipment choices, you talk to people who understand the pivotal role that I.T. equipment and software plays in linking these processes.
Services

we offer

: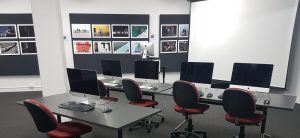 Training
At Team Digital we present a variety of learning opportunities through our regular schedule of Adobe software courses. We have also developed a number of short courses and workshops that cover topics such as  "True Colour Printing", "Designing with Tablets" along with sessions that deal with colour management, studio lighting and other issues relevant to our customers. In-house courses are conducted in the unique surroundings of the Team Digital Training Centre, which also houses the Bunker Gallery. The Training Centre boasts the latest Apple Mac Minis and Adobe Creative Cloud software and we take care to limit attendance numbers in order to maximise the learning experience for participants.
I.T. Support
Team offers on-site support to customers in a number of key areas. Our technicians provide advice and troubleshooting for Apple networks and backup systems as well as a specialist design and customisation service for Filemaker Pro users.
Imaging Support
A range of services is also available to support various aspects of imaging workflow including colour management audits, monitor calibration and printer profiling. In addition to our field activities, Team offers in-house services such as lens calibration, Apple software support, colour profiling, printer support (Epson Plus Program) and a remote support package for country clients.
Pre-Loved equipment
We regularly consign equipment, which in many cases presents like-new. Pre-loved DSLR cameras, lenses, printers and studio flash equipment regularly feature in our online Pre-Owned page and can result in great savings to customers who are quick to secure a bargain.
Team Rental
is Team Digital's highly competitive equipment rental service whereby customers can enjoy the benefits of using the latest in photographic equipment without the capital outlay.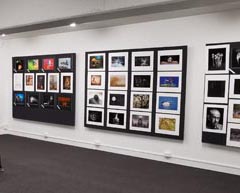 The Bunker Gallery
is a collaboration between Team Digital, Epson Australia, Canson, Canon Australia, and Ilford Australia, whose shared vision is to have a dedicated photographic print gallery in support of local, national, and international photographers for the benefit of both new and established artists.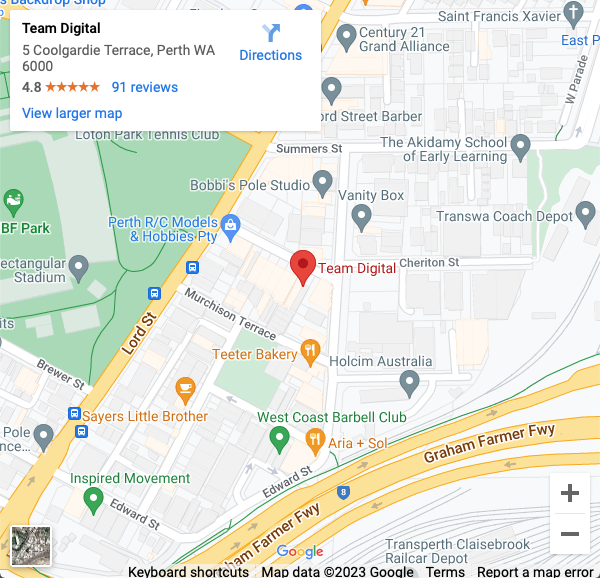 5 Coolgardie Tce


Perth WA

6000

Ph: (08) 9328 3377

Trading hours
Monday to Friday
8:30am to 5:00pm
Saturday
CLOSED
Sunday
CLOSED